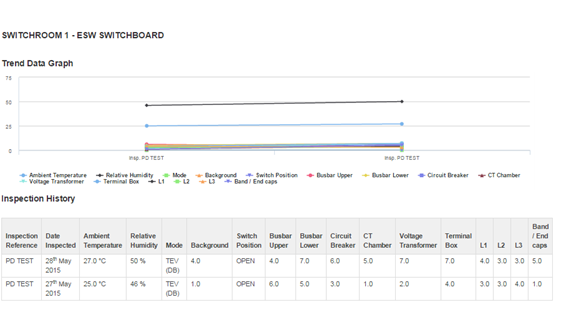 TICOR™ android based reporting software can generate partial discharge reports onsite in less than 20 seconds after inspection completion.
Partial discharges are electric discharges that do not completely bridge the electrodes. The magnitude of such discharges is usually small; however, they can cause progressive deterioration of insulation that may lead to eventual failure.
Non-intrusive partial discharge detection provides a fast and simple to use method for identifying potential sources of insulation failure, that could result in the loss of supply to customers and a serious health and safety issue to staff and other personnel.
A partial discharge emits energy in the following ways:
Electromagnetic:
Radio – Light – Heat
Acoustic:
Audio – Ultrasonic
Gases:
Ozone – Nitrous oxides
Partial discharge surveys can be carried out on indoor metal clad switchgear, most types of outdoor switchgear and the cable termination boxes of transformers.