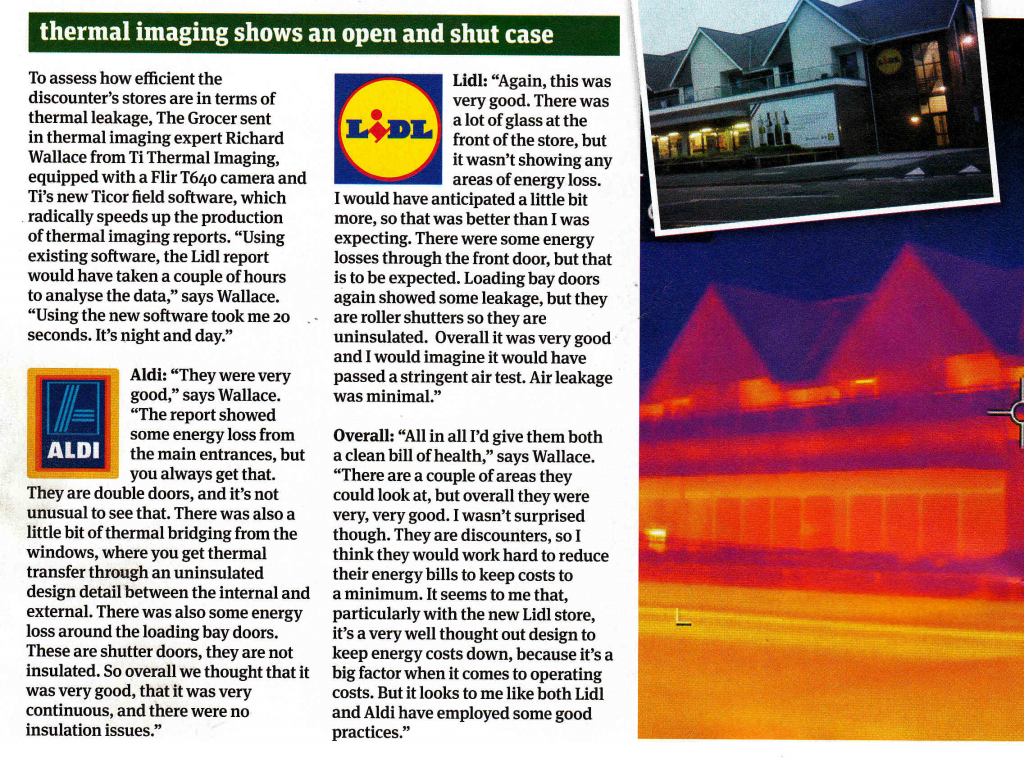 Ti Thermal Imaging Ltd  and TICOR worked with The Grocer magazine investigating "How green are the discounters", Written by James Halliwell.
With their astonishing growth (Aldi and Lidl have seen a 34% increase in customer numbers since 2011, according to Kantar Worldpanel,
with 53% of the population shopping in one or other in the 12 weeks to 17 August), "they are on people's radar," says Rob Harrison, co-editor of Ethical Consumer
magazine. "I think campaigners will start putting pressure on them in the same way they have done with the bigger competitors as their market share becomes more significant.
Ti Thermal Imaging Ltd worked with The Grocer magazine investigating "How green are the discounters"
As Aldi and Lidl grow, they have also had to expand their supply chains to cope. "We have invested heavily in our delivery fleet to make our network more fuel efficient, introducing the latest fuel management systems," says Hurley. Its website offers up more detail, adding that Aldi has started using "lighter vehicles with more fuel-efficient tires and improved aerodynamics".
It also says that, where possible, it uses "visiting suppliers to deliver to our stores on their return to reduce empty running" and that it also monitors business travelling and "employee fuel use accurately so we can reduce the impact over time."
Thermal imaging shows an open and shut case
To assess how efficient the discounter's stores are in terms of thermal leakage, The Grocer sent in thermal imaging expert Richard Wallace from Ti Thermal Imaging,
equipped with a Flir T640 camera and Ti's new Ticor field software, which radically speeds up the production of thermal imaging reports. "Using existing software, the
Lidl report would have taken a couple of hours to analyse the data," says Wallace. "Using the new software took me 20 seconds. It's night and day."
Aldi
"They were very good," says Wallace. "The report showed some energy loss from the main entrances, but you always get that. They are double doors, and it's not unusual to see that. There was also a little bit of thermal bridging from the windows, where you get thermal transfer through an uninsulated design detail between the internal and external. There was also some energy loss around the loading bay doors. These are shutter doors, they are not insulated. So overall we thought that it was very good, that it was very continuous, and there were no insulation issues."
Lidl
"Again, this was very good. There was a lot of glass at the front of the store, but it wasn't showing any areas of energy loss. I would have anticipated a little bit more, so that was better than I was expecting. There were some energy losses through the front door, but that is to be expected. Loading bay doors again showed some leakage, but they are roller shutters so they are uninsulated. Overall it was very good and I would imagine it would have passed a stringent air test. Air leakage was minimal.
Overall
"All in all I'd give them both a clean bill of health," says Wallace. "There are a couple of areas they could look at, but overall they were very, very good. I
wasn't surprised though. They are discounters, so I think they would work hard to reduce their energy bills to keep costs to a minimum. It seems to me that, particularly with the new Lidl store, it's a very well thought out design to keep energy costs down, because it's a big factor when it comes to operating costs. But it looks to me like both Lidl and Aldi have employed some good practices."