Cost Benefit
TICOR's™ Cost-benefit analysis (CBA) sheet helps you to compare the expected financial gain  and time saved by using TICOR™ reporting software.
Taking into consideration Engineer's Cost Per Hour (£), Inspection Hours (average) and the number of Inspection days you carry out per year the cost benefit analysis sheet will help you to establish your yearly inspection costs without TICOR™,  yearly inspections costs with TICOR™(incl TICOR™ costs)  and savings per year by using TICOR™.
TICOR™ Cost Benefit Advantage –
Click Below Diagram To See How Much TICOR™ Could Save You: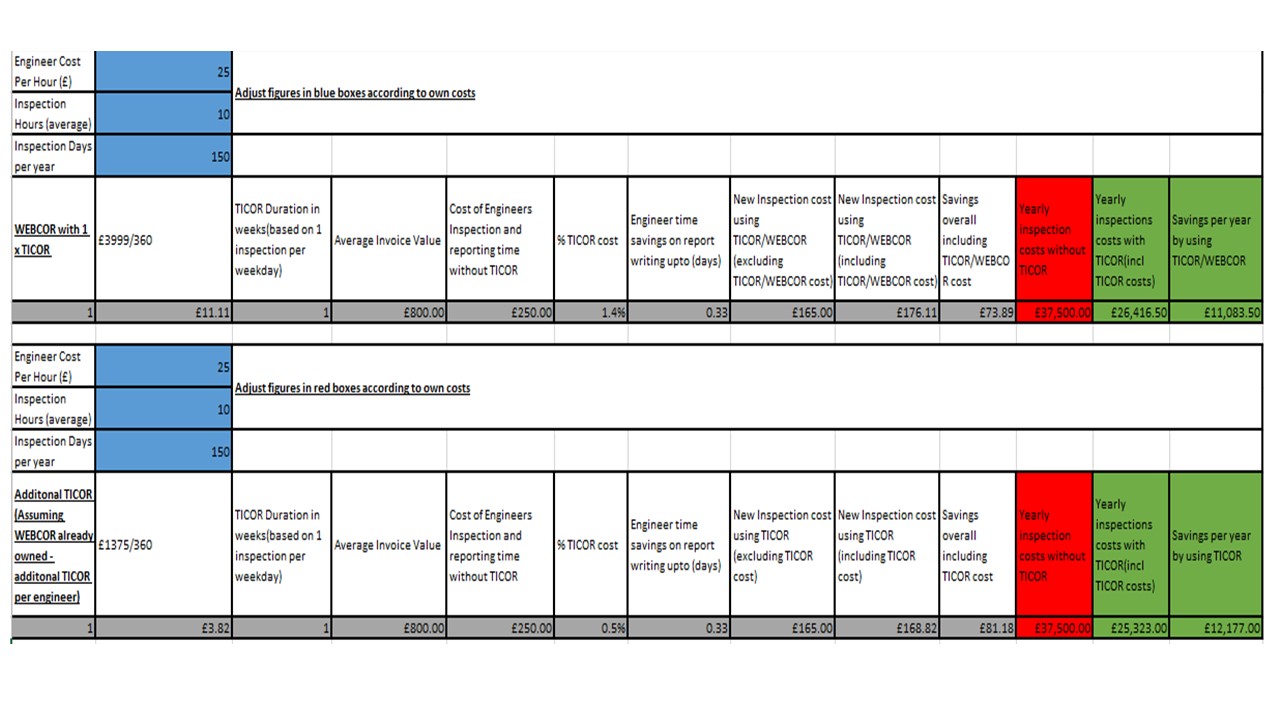 Short Video Demonstration:
Tablet: Built using the latest Android software supported down to KitKat 4.0. Tablets are lightweight, have long battery life and use integrated cameras with powerful internal hardware for fast inspection and data capture.​
Inspect: Engineers inspect their equipment inventory from imported lists or they can build detailed inventories as they go at no extra time over regular inspection methods. They will write their report during the inspection without any time penalty.​
Capture: Instantly diagnose and record equipment with faults using formulas in-built to various module types. Utilise the tablet camera for digital images and/or quickly import images from 3rd party cameras such as InfraRed/Corona or other types of imaging device.​
Organise: Beautiful and simple interface which organises inspection data into an easy to read and understand format. Use TICOR™ as standalone or you have the ability to connect it with our 'One click' sync Campaign Management system WEBCOR™. ​ ​
Report: Create your detailed, easy to understand and standardised report direct from TICOR™ in under 2 minutes. Save and/or email directly to your client there and then.​
Ask Us For More Information – info@ticor.co.uk